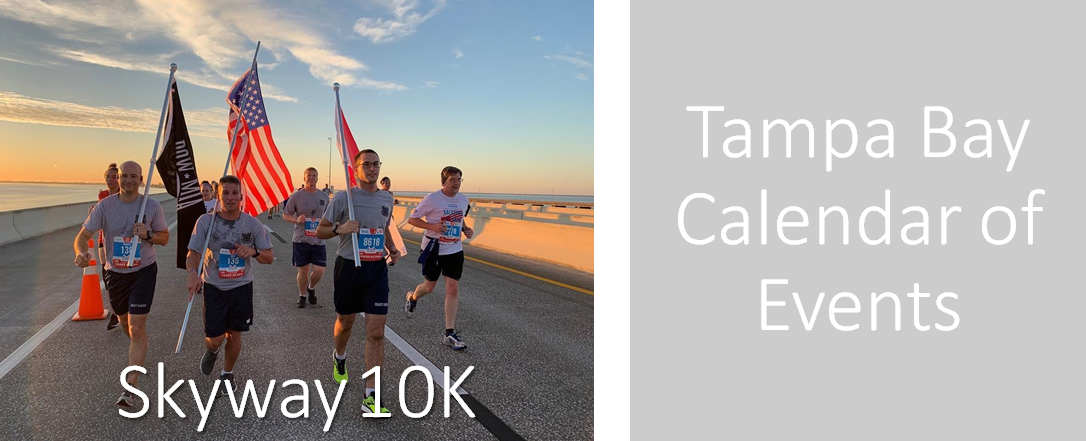 March 2019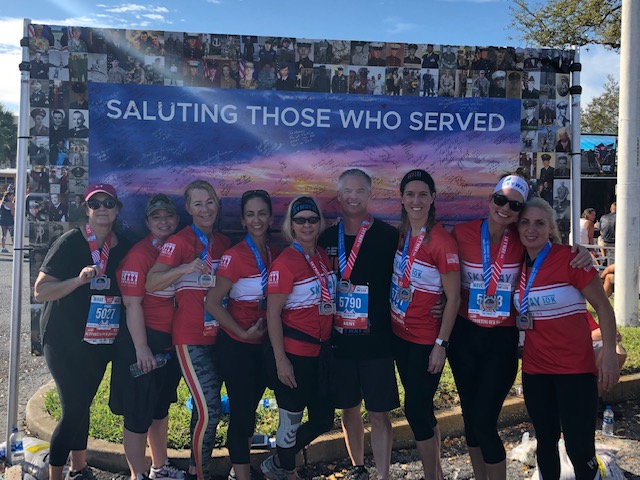 Skyway 10K 2019
February 12th – March 10th
Hamilton
Hamilton is the story of the unlikely Founding Father determined to make his mark on the new nation as hungry and ambitious as he is. From bastard orphan to Washington's right-hand man, rebel to war hero, a loving husband caught in the country's first sex scandal, to the Treasury head who made an untrusting world believe in the American economy. George Washington, Eliza Hamilton, Thomas Jefferson and Hamilton's lifelong friend/foil Aaron Burr all make their mark in this astonishing new musical exploration of a political mastermind.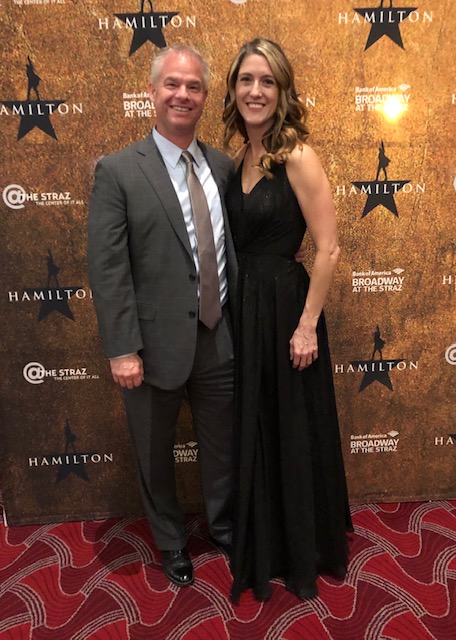 Hamilton 2019

March 8th – 10th
Firestone Grand Prix
Each March, downtown St. Pete transforms into an IndyCar racetrack for three adrenaline-pumping days when the Firestone Grand Prix comes to town! Come watch drivers race at speeds in excess of 170 mph on a 14-turn course through the city's waterfront. It's not only a great weekend out for those with a need for speed–it's also family-friendly with interactive games and chances to meet the drivers themselves!

Sat., March 9th
Ride 4 the Animals 2019
Enjoy a day of fun; and if you want, challenge yourself and "ride with the big dogs" along the Gulf Beaches. You can also choose to ride at a more leisurely pace, or enjoy one of two other shorter routes. Whatever you choose, come and . . .Ride 4 the Animals!

Sun, March 10th
Legally Blonde The Musical
A sparkling new production of Legally Blonde – The Musical comes to Ruth Eckerd Hall for the first time since the debut tour in 2009! A fabulously fun, international award-winning musical based on the adored movie, Legally Blonde – The Musical, follows the transformation of Elle Woods as she tackles stereotypes, snobbery and scandal in pursuit of her dreams.

Tues, March 12th
Steve Miller Band
One of rock music's all-time greats, Rock and Roll Hall of Fame member Steve Miller and his band return to Ruth Eckerd Hall for the first time since their 2017 sold-out show.

Mon., March 18th
Tampa Bay Lightning vs. Arizona Coyotes
Be the Thunder! The only place you'll find ice in Tampa Bay is at Amalie Arena, home of our professional NHL hockey team the TB Lightning. After making it to the Stanley Cup Finals in 2015 and the Eastern Conference Finals in 2016 & 2018, the Bolts are undeniably one of the best teams in the league, so don't miss your chance to watch them in action!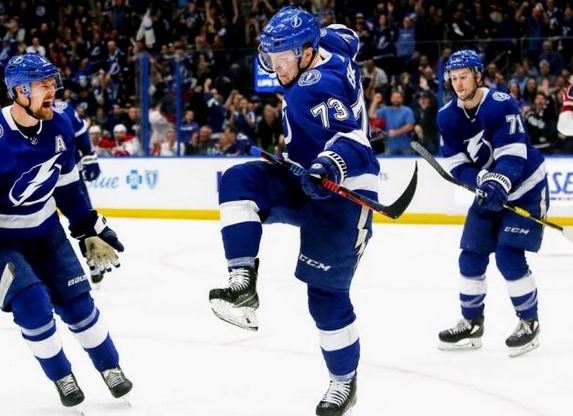 Photo courtesy of visitstpeteclearwater.com
March 21st – 23rd
FRIENDS! The Musical Parody
FRIENDS! The Musical Parody is the hilarious new musical that lovingly lampoons TV's Friends — celebrating the wacky misadventures of your favorite group of 20-something pals as they navigate the pitfalls of work, life, and love in 1990s Manhattan.


Fri., March 22nd
Chicago
GRAMMY Award® winning iconic rock band Chicago returns to Ruth Eckerd Hall with their signature horns for the first time since their sold-out show in 2014. With worldwide sales of more than 120 million records, five consecutive #1 albums, and an astonishing 50 hits in the U.S. alone, including 21 Top 10 smashes, such as "Saturday in the Park", "25 or 6 to 4", "Does Anybody Really Know What Time It Is?", "Make Me Smile" and "If You Leave Me Now", Chicago is one of the most successful bands in rock music history.

Sat., March 23rd
Brad Paisley at Valspar
Country mega star Brad Paisley will headline this year's Valspar LIVE concert! Paisley, with more than 20 #1 country hits to his name, will hit the Osprey Driving Range Stage at Innisbrook Resort after the conclusion of third round play on Saturday, March 23 at approximately 6:30 pm. This concert is free of charge to all Saturday tournament ticketholders.

Sat., March 23rd
Tarpon Springs Music Festival
Jam out in downtown Tarpon Springs during their annual Tarpon Fest! Starting at 3 p.m., the lineup includes musical performances by The Black Honkeys, Johnny Mile & The Kilometers, Shevonne & The Force, and more! Entry is only $5 and the music festival is located at Court Street and Safford Ave.
Thru March 24th
Hundred Days
HUNDRED DAYS is an uncensored, exhilarating and heartrending true story about embracing uncertainty, taking a leap and loving as if you only had 100 days to live. With magnetic chemistry and anthemic folk-punk music, creators and stars Abigail and Shaun Bengson explore a fundamental question: how do we make the most of the time that we have?
March 29th – 30th
John Mellencamp Show
Set to coincide with a highly anticipated new album release, John Mellencamp will embark on a 2019 tour of The John Mellencamp Show which will feature the rock icon's classics plus some new material. Hailed by critics and fans alike as one of music's most authentic and crowd pleasing concert performers, Mellencamp will begin the tour February 7 in his home state of Indiana at South Bend's Morris Performing Arts Center and will span two months ending at Ruth Eckerd Hall for two shows on Friday, March 29 and Saturday, March 30.

VKNG DRIP Fitness in the Park
VKNG DRIP is a fun high energy circuit class that infuses one of the best cardio movements out there every Monday, DANCE. Up your game in this dance-based functional and strength training class which combines easy to follow moves and circuit exercise. It's a total body dance based workout designed to tone your bod from head to toe!
Free Yoga in the Park
Relax & unwind with free yoga at Crescent Lake Park on the first Saturday of every month starting at 9 a.m.
Thru May 8th
Heights Night Market
Heights Night Market is a monthly, evening market taking place on 7th Ave in front of Armature Works every 2nd Wednesday of the month from 6:00pm – 9:00pm from November – May. Heights Night Market will feature a rotating cast of artisanal artists and makers selling handmade goods, jewelry, art, wood-work, gifts and so much more. Heights Night Market is free to attend, family-friendly and features live music at each event.
There is no cost to attend Heights Night Market, it is a family-friendly urban experience and features live music as well as food and drink for purchase from any of the 14-vendors within Heights Public Market.
Thru May 19th
"Magritte and Dali" is a first-of-its-kind special exhibition dedicated to the world's two most celebrated surrealists, Rene Magritte and Salvador Dali. Showcasing carefully curated, exemplary pieces from Magritte's and Dali's works, Magritte and Dali pushes back the curtain to reveal what lies beyond the simple appearance of painted images. The two preeminent surrealists opened the mind to an alternative view of the world, constantly challenging reality.
Monday, May 27th
The Memorial Day "I Run For The Flag" 5K
This is a huge hit with 3 day weekend ending in a celebratory 5K run or walk that celebrate our great American flag. The food, medals, and traidion go hand in hand with this great event.
St. Pete Beach Drive Dine & Wine Tour
This tour explores the beautiful waterfront Beach Drive neighborhood via a 3- hour walking food & wine tour. We meet at The Vinoy Hotel the "Grand Dame" of downtown St. Pete and while sipping a signature cocktail we explore this spectacular historic resort. The tour continues to The Birchwood Inn & Locale Market for wine and food pairing. Up next we visit Flute & Dram for a taste of the good life with a champagne and caviar tasting. Finale desserts and coffee at Cassis St. Pete.
Royal Palm Market
Enjoy live music, food, shopping and craft cocktails every Thursday at 6 p.m. under the royal palms of St. Pete! This weekly night market is located right next to Intermezzo Coffee & Cocktails and features local artists, local boutiques, handmade goods, leather goods, wood burning, clothing & accessories, specialty dog treat vendors, soaps, candles and so much more! Bring the whole family including your pets to this free, weekly event.
Mayor's Food Truck Fiesta
Looking for a larger selection of lunch options in downtown Tampa? Step outside for a meal in Lykes Gaslight Square Park! Choose from a wide variety of local food trucks serving up all sorts of delicious culinary creations. You'll have your pick of dishes from plenty of delectable kitchens on wheels!
Featuring tasty treats from a variety of local vendors, the Mayor's Food Truck Fiesta occurs the first Wednesday of every month in Downtown's Lykes Gaslight Square Park from 11am to 2pm.
Enjoy all Tampa Bay has to offer!